Team BEEF South Dakota
Applications for the 2023 season are now closed. If you have any questions please reach out to Merretta Anderson at [email protected].
Who is Team BEEF South Dakota?
Team BEEF South Dakota is a community of runners and cyclists who recognize the nutritional benefits of beef and the vital role high-quality protein plays in their training. Team BEEF South Dakota is open to all South Dakotans who want to promote beef, be physically active and showcase eating beef in a healthy lifestyle.
Become a Team BEEF Member
Team BEEF South Dakota adult and youth members will receive an official Team BEEF South Dakota Jersey and are encouraged to participate in at least 2 of our suggested races and/or events.

Requirements:
Eat beef and believe in the nutritional benefits it provides.
Participate in any educational webinars.
Encouraged to participate in at least 2 races and/or events wearing a Team BEEF jersey.
Expectations:
Serve as a positive role model for beef.
Actively spread the word and help educate people who seek information about beef, including social media networks.
Participate in orientation and share what you learn.
Benefits:
SD Team BEEF Jersey for NEW members
Access to fitness & nutrition tips, recipes, etc.
Network and community of runners who have common interests & passion.
Strong fan base and support system.
REGISTRATION FOR 2024 SEASON WILL OPEN DECEMBER 1, 2023
2023 TEAM BEEF SD SCHEDULE
Team Beef South Dakota is proud to partner with the following races across our state. We encourage our team members to take part in these races.
-Frostbite 4- Beresford, SD
-February Freeze 5K- Rapid City, SD
-Pierre YMCA Half Marathon- Pierre, SD
-Mickelson Trail Deadwood, SD
-Rasdak & Beef Night- Sturgis, SD June 8, 2023
-Belle Fourche Rodeo 5K- Belle Fourche, SD
-Beef & Eggs 5K- Brookings, SD
-Thunderhawk Wide Open- Thunderhawk, SD
-Tour De Corn- Mitchell, SD
-Sioux Falls Marathon- Sioux Falls, SD
-Andy's 5K- Huron, SD
-Black Hills Veterans March & Marathon- Deadwood, SD
-Crazy Horse Marathon- Hill City, SD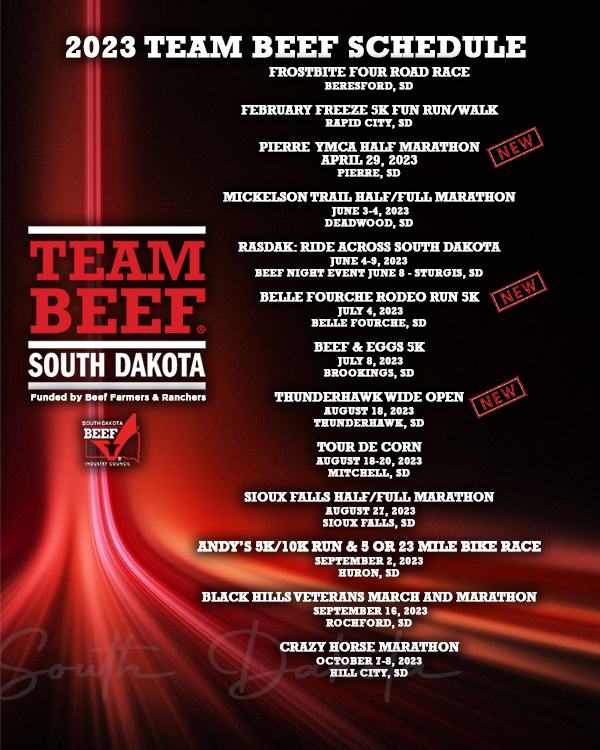 Getting Started:
Welcome to Team Beef SD! Get started with the material below.
Team Beef Resources:
Check out the strength resources, delicious recipes, and more below!
Team Beef
Strength Resources
Hey Team BEEF SD members! Checkout this great resource from BeefItsWhatsForDinner.com on the connection between beef's protein and strength. It contains strength guides, meal plans, recipes and more.
Team beef
Recipes for Recovery
Recipes that are great for recovery for Team Beef SD members!
2023 Team Beef SD Suggested Races and Events:
Frostbite Four Road Race - Feb 11, 2023
February Freeze 5k Fun Run/Walk - Feb 12, 2023
Mickelson Trail Half/Full Marathon - June 4, 2023 - Deadwood, SD
RASDak: Ride Across South Dakota - June 4-9, 2022 - Newcastle, WY-Spearfish, SD
Tri County Tour De Du - June 2023 - Beresford, SD
Beef & Eggs 5k - July 8, 2023- Brookings, SD

Tour De Corn - - Mitchell SD
Sioux Falls Half/Full Marathon - August 27, 2023 - Sioux Falls, SD
Andy's 5k/10k Run & 5 or 23 Mile Bike Race - September 2, 2023 - Huron, SD
Black Hills Veterans March and Marathon - September 16, 2023 - Deadwood, SD
Crazy Horse Marathon - October 8, 2023 - Hill City, SD