Family Friendly Activities
Check out these family friendly beef activities, recipes, and more!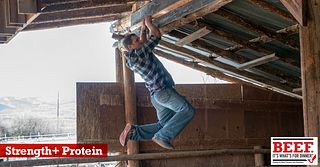 Families in motion
Looking for a great at-home ranch-style recess workout?
Games and activities

Games and Activities can be so fun when staying inside! Check out some fun games designed for everyone!
contests
Check out all our contests and enter to win!
Family Friendly Recipes
Cooking can be fun for the whole family! Try out these delicious beef recipes below!
Family Meals
Looking for some great meals that the whole family will enjoy?
RECIPES: 30 MINUTES OR LESS!
With a few common ingredients and a little kitchen know-how, you've got a nutritious meal on the table in 30 minutes or less. Try these recipes when time is tight!
RECIPES FOR UNDER $15
These recipes cost less than $15 but taste like a million!
Cooking with Chef Justin Warner
Listen in as Celebrity Chef Justin Warner, SDBIC's Director of Nutrition, Holly Swee, and Beef Producer, Les Shaw, talk about all things beef!
Masters of Beef Advocacy
"The checkoff-funded MBA program is a self-directed online training program designed to equip beef producers and industry allies with the information they need to be everyday advocates for the beef industry."
- Beef.org
Consumers love beef. They love the sizzle of a steak on the grill and biting into a thick, juicy burger. But they have questions. Where does beef come from? Is it safe? Is proper care given to animals and the environment?
We have a great story to tell. Beef producers work hard every day to be good stewards of the land and their animals in providing safe and nutritious beef for America's dinner tables. We need to be passionate and vocal in telling our story.

That's what the Masters of Beef Advocacy (MBA) program is about…equipping beef producers across the country to tell their story in presentations to schools and church/civic groups, through local media and in the "virtual" world of the Internet.