Home for the holidays with beef
Bring Beef to Your Holiday Table
Make beef the center of your holiday celebration this year. Let the savory aroma of a holiday roast wrap itself around you and give your family a gift they'll ask for every year. Or maybe every night.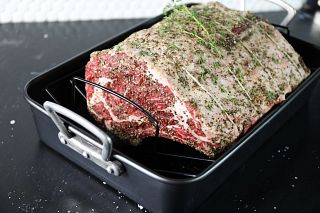 Educator Resources
Looking for some great resources for your classroom? Check out this toolkit that includes infographics and other educational resources.
Beef Quality Assurance
The South Dakota Beef Quality Assurance/Critical Management Plan program was initiated by beef industry participants to add value to our cattle by assuring our production practices adhere to the highest quality standards. The program raises consumer confidence through offering proper management techniques and a commitment to quality within every segment of the beef industry.
Masters of Beef Advocacy
A checkoff-funded online training program equipping beef producers across the country to tell their story in presentations to schools and church/civic groups, through local media and in the "virtual" world of the Internet.
Program
Build Your Base with Beef
Build Your Base with Beef is a comprehensive sports nutrition and training program that utilizes beef as its premier protein. It strives to prepare young athletes and their families for a successful sports season. This program provides a toolkit that contains ready-to-use material as well as resources that lead to overall success towards a healthful lifestyle through a collaborative partnership between the South Dakota Beef Industry Council, Sanford Health, and the Sanford Sports Science Institute.
Program Spotlight
Todd Mortenson
Rancher - Hayes, South Dakota
"I just want people to understand the health benefits of eating good nutritious beef. Its got natural proteins and amino acids and vitamins – everything that your body needs to rejuvenate after strenuous workout. The exciting thing to me is not knowing how big this thing can be. The concept is so right and the enthusiasm for this program is really something. This program really is a perfect combination of the beef industry and the health industry."